Copy to WindowsCE device
In accordance with CPU of your WindowsCE, copy file to your device.
For ARM cehttp2.ARM.CAB
For SH3 cehttp2.SH3.CAB
For SH4 cehttp2.SH4.CAB
For cehttp2.MIPS.CAB
To know that CPU type of your device, Please probe 'the property of fhs system' by the control panel. After copying the CAB file, Please execute it on the device. An installer starts automatically, and then CEHTTP is installed
Default install place is as follows
"\program files\cehttp\cehttp2.exe"
Execute
Since it is a WEB server software, your WindowsCE device have to connect to the network.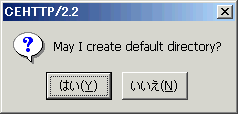 If it has been executed for the first time, the above dialog box will appear, since there is no document root folder on the device.
Here, Please tap "Yes" button. CEHTTP create document root folder and "index.html" file.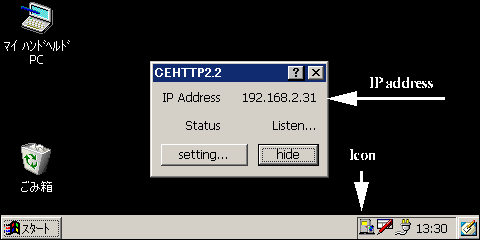 If CEHTTP is gracefully executed, it becomes the above screens. (In the case of HPC/Pro/2000)
"IP Address" is IP address which CEHTTP recognized.
If the device is not connect to the network, or cannot obtain the address from DHCP server, CEHTTP cannot be accessed from other PC's. Please check your network settings and restart CEHTTP again.
"Status" is present situation.
If displayed as "Listen...", CEHTTP started normally.
When displayed as "Listen failed.", it is in the state where starting server has failed.
Tapping task tray icon, CEHTTP window will be un-displayed. Tapping again, window will be displayed.
For the test, access with your PC's browser to CEHTTP server. If 'IP address' is "192.168.2.31", HTTP address is as follows.
http://192.168.2.31/
If you can see the message "Can you see me?" on your browser, installation is success and completion.